So, you've decided to start a blog, but you have no idea how to go about it? Don't worry, we've got you covered. We've been teaching people how to start successful blogs and make money on the side for years.
In this guide we'll teach you how to start your own blog step by step. There's no technical experience necessary – as a matter of fact, it's much simpler and faster than you think!
We've also put together a checklist for launching a blog, so you can check everything off as you go.
After reading this guide you'll be able to get your blog up and running in 30 minutes or less. You'll also know exactly what to do next to promote your blog and grow your audience.
Before we begin, let's talk about why should you start a blog.
If you want to skip the intro, then click here to get started with the first step.
Why Start a Blog?
Whatever your reasons for starting a blog, there are plenty of benefits you might not even realize!
Here are just a few reasons to start a blog:
Make money online: We're starting with the best reason first! A blog has the potential to make money every month through various methods. You can earn money through running ads, selling your own products and services, recommending other businesses with affiliate marketing, and more.
Build an audience: Let's say that you are going to launch a product or a book soon and you want to build some buzz before the launch. A blog is the best way to spread the word.
Attract targeted leads: Maybe you already have a business and want to generate leads and get more customers. Publishing fresh content to a blog is the best way to do that.
Express yourself as a writer: Blogging improves your writing skills. You can share your stories, encourage people and build a community through your blogs.
Can I Start a Blog for Free?
The short answer is yes, you can start a blog for free.
However, as tempting as it may sound, choosing the free option is full of risks and limitations. Our advice would be to steer clear off the free blogging platforms.
A free option might be a good idea if you just want to start a basic blog as a hobby and don't care about making money from it.
If you intend to start a business, build your brand reputation, or add more advanced features to your blog, then the free option is not going to do well for you because of its many limitations.
Free Blogging Platforms and Why They Are a Bad Idea
Before you start jumping ship, let me further explain why blogging with a free platform is bad idea.
They have a lot of restrictions like limited storage, features, and design customization.
Your blog can be taken down anytime if you violate their terms of service.
They don't have any customer support if you need help getting started or have technical issues.
Your blog will have ads, which can be disrupting for your readers and look unprofessional.
Signing up for a free blog is good for testing the waters, but if you really want to scale your blog then you'll need a premium blogging site.
And to be honest, starting a blog doesn't even cost much. It can cost you less than $10 a month if you follow our instructions below! So give it a shot and get your blog started the right way.
How to Start a Blog in 10 Steps
Ready to get started? Just follow along and we'll walk you through it:
In just 10 steps and less than 30 minutes, your blog will be up and running. The only other thing you need from yourself is commitment, as starting a blog is easy but running it takes dedication and effort.
Ready? Let's get started!
Step 1: Pick a Blog Topic
(Already know what your blog will be about? Just click here to skip to the next step, choosing your blogging platform.)
Not sure what you should blog about?
There are two approaches to picking a niche or topic for your blog:
You should pick a topic that you are passionate about or,
You can look for a topic that people are looking to read on.
Of course, it's best if you can find a topic that fits both! But if you have to choose out of the two, the best approach in our opinion is to blog about a topic that a lot of people want to read about.
If you pick a topic that people are searching for, then you'll have a good chance of getting a lot of traffic to your blog.
Once you start getting more traffic, you can then monetize your blog to earn money. We'll get to the monetization part in the later section.
Do You Need to Be an Expert on the Topic?
A lot of people will also tell you that you need to be an expert to blog on the topic you have chosen. That's not necessarily true! You only need to have an honest interest in the topic you have chosen, and then you can learn about it as you go.
How to Know If Your Blog Topic Is Popular
The next order of business is to find out the search volume of your topic. What is search volume? It simply refers to the number of people who are searching for your topic and related topics, with online search engines like Google.
To find out if your topic is worth blogging about, ask yourself:
Are there other blogs on your topic?
Are there any popular blogs that have more than 10,000 subscribers?
Are there any popular Facebook groups on your topic?
Are there popular books on your topic?
Are there questions on Quora or other forums on your topic, that have a good number of views and answers?
If most of the answers to the questions above are "yes", then you're on the right track! That means that there are a good number of people out there who are interested in reading about that topic.
You can also go to Google Trends to check the overall trend of your topic. For example, take a look at this screenshot: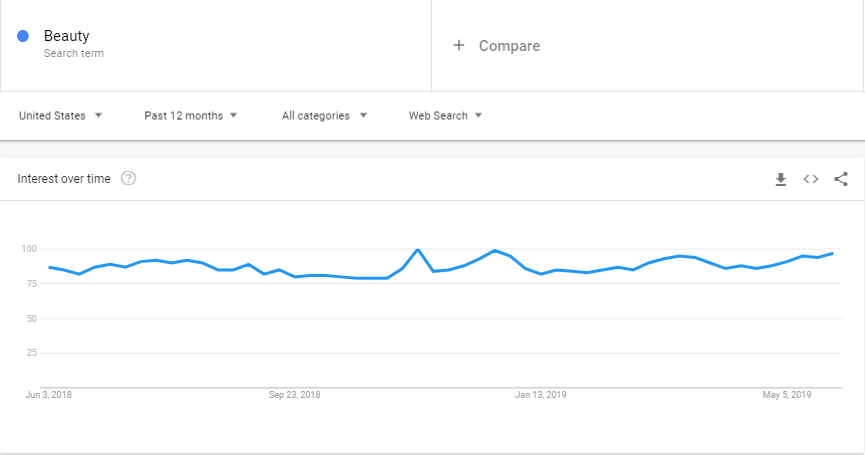 You'll notice that the trend of the search term "beauty" is still going up, which means it gets searched a lot. This means that this search term has potential of bringing you a lot of traffic.
Just to get you started brainstorming, here are some popular topics for blogging:
Marketing
Pets
Fishing
Beauty
Technology
Health and fitness
Sports
Business and money
Weddings
Now that you have picked your topic, let's move on to the next step.
tep 2: Choose the Best Blogging Platform
Choosing the best blogging platform can be tricky. A lot of people make mistakes when it comes to choosing the right blogging platform. We have covered a separate guide on how to choose the best blogging platform to help you avoid making that mistake.
Now for the question, which blogging platform should you choose?
The best by far is WordPress.org.
Why? Because it's the most popular blogging platform in the world, and it's also free.
WordPress currently powers 33.4% of the internet! That's one third of the internet itself.
WordPress currently holds more than 60% of the market share and is being used by brands like BBC, Wired, Time Magazine and the New York Post.
With WordPress, you can install plugins of your choice and you can customize your website anyway you want. It gives you freedom that no other blogging platform does.
The WordPress software itself is free, but since it's a self-hosted platform you'll have to pay for the hosting and domain name – more on that below.
Step 3: Set Up Your WordPress Website
Like we mentioned above, you can't start your blog without hosting and a domain name.
What are hosting and domain names?
Web hosting is where your website lives, like your website's house on the internet. This is where all your website files are stored. Every website needs web hosting – without it, you won't be able to take your blog live.
A domain name is the address of your website. Users type it on their browsers to get to your website. For example, our domain name is www.blogtyrant.com.
Step 4: Customize Your Blog's Design
Now that you have successfully taken your blog live, the next step is to design your blog.
After the installation, you must have noticed that your blog looks very basic. To make it more visually appealing, you'll have to install a theme.
There are thousands of themes to choose from. You can either go for the free options or you can get premium themes with more advanced features.
When you are deciding on which theme to pick, make sure that you go for simplicity. It really helps when you have a clean design along with good content. If your blog doesn't look good then your readers won't bother reading your content, no matter how good it is. You read our guide on how to choose a WordPress theme for more tips.
A couple of our favorite WordPress themes are Astra and OceanWP. They're both free to start with, and you can upgrade to unlock even more features when your blog starts growing.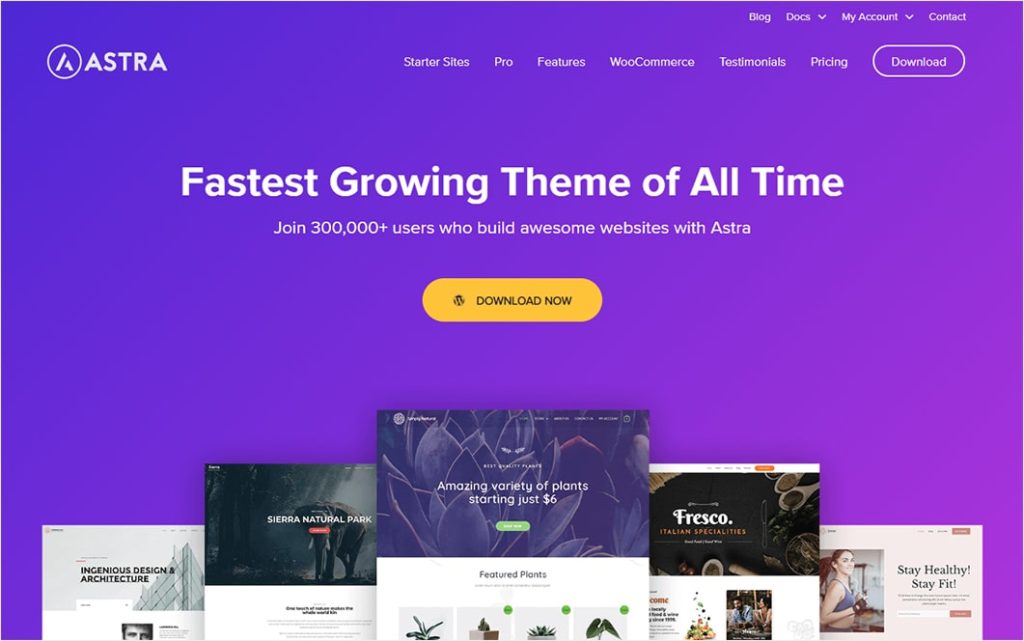 To install a theme, you need to go through the following steps from your WordPress dashboard:
Log in to your WordPress dashboard (remember this is at www.example.com/login – just change example.com to your domain).
On the left pane click on Appearance » Themes.
Click on the Add new button.
You'll be taken to a page where Themes are listed.
Hover your mouse over the one you like and click on Install.
After it has been installed, click on the Activate button.
That's it!
Step 5: Install Essential WordPress Plugins
Plugins are what makes WordPress powerful. Plugins can get your site to perform effectively and efficiently. You can get the best features available out there if you pick the right plugins.
With the help of plugins you can get any type of feature or function you want on your website.
There are over 54,000 WordPress plugins available in the market for you to choose from. They can help you with creating contact forms, generating leads, growing your traffic, and so much more.
In this section we're going to pick out the best WordPress plugins for you and we'll also teach you how to install them.
How to Install a Plugin on WordPress
From your WordPress dashboard, you can install a plugin by following these steps:
Click on Plugins on your WordPress left hand menu.
Search for your desired plugin.
Click on the Install button next to the plugin you want.
After it installs, the button will say Activate. Click on Activate to start using your new plugin.
For a more detailed walkthrough, here's a beginner's guide to installing plugins.
Now that you know how to install plugins, let's talk about the essential plugins that you need to turn your blog into a powerhouse.
Creating Your Main Menu
Now that your pages have been created, it's time to add them to the main menu of your new blog.
To create a menu in WordPress, click on Appearance » Menus. Enter a name for your menu (I just named mine "Main Menu") and click Create Menu.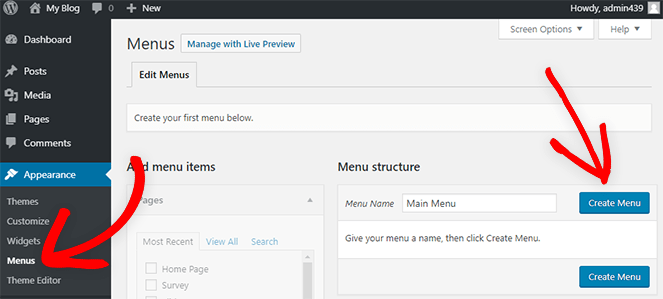 Now you can add your new pages to the menu. On the left side under Pages, check the box next to the pages you want to add to your menu. Then click Save Menu.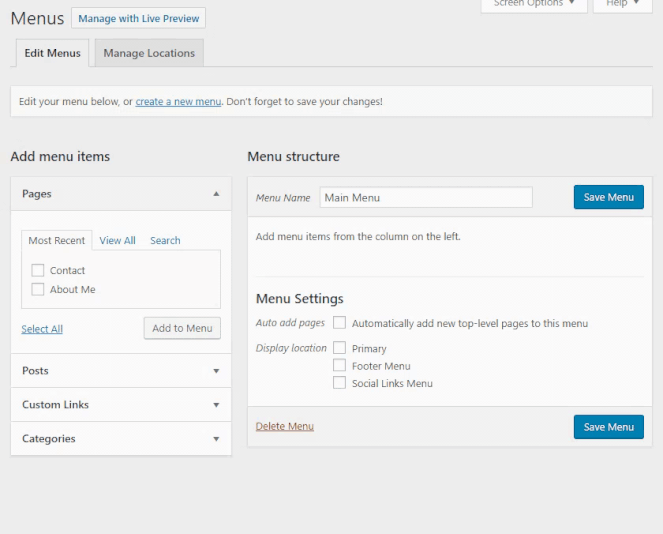 To add the menu to your header, click on Manage Locations tab at the top. Then select your menu in the location where you want it to appear. Note that your menu locations will be different depending on your theme, but usually there's a primary, main, or header menu area for you to add your main menu.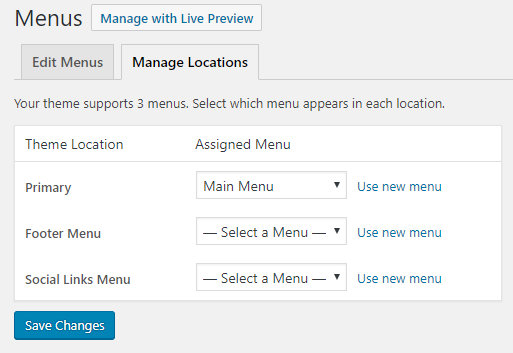 Congrats! You've finally created your own blog… but what good is a blog if you don't know how to come up with great content ideas and promote them to make money online?
We'll talk about all these in our final three steps. Keep reading.
Step 8: Generate Content Ideas and Write Your First Post
Alright, ready to get started with blogging?
The first thing you should decide is how often you'll write and publish a new blog post. The best way to go about it is to make a content calendar. Decide on which days you'll post your blog and then stick to it.
I recommend starting with one blog post per week. This will give you plenty of time to learn the ins and outs of your new blog.
As a blogger you'll need to be as disciplined as possible. If you're serious about scaling your blog then make sure that you don't miss the deadlines you set for yourself.
Now that we have got that out of the way, let's talk about how to generate content ideas!
How to Generate Blog Post Ideas
In order to come up with good content ideas you need to be listening to your audience. You should know their problems and then try to come up with solutions that helps them.
But when you're first getting started with a blog, you don't have an audience yet! So how do you know what they want to read?
There are two ways how you can find what your readers wants to read.
Analyzing your competition
Researching the communities where your readers are most active.
Analyzing Your Competition
You can gain a lot of ideas if you go through other websites in your niche or industry, and see what they blog about.
In step 1 above, we talked about researching other blog posts to pick a niche for your blog. You can revisit those same sites to get ideas for blog posts.
Just make sure to put your own pin on the topic and not copy the content itself. Your blog posts should be 100% original. Think about how you can improve on your competitor's posts and create something even better.
Researching the Communities Where Your Readers Are Most Active
There are a lot of communities and forums on the internet that can help you get more ideas. Our favorites are Reddit and Quora.
People ask a lot of questions on Quora about different things. You can search your topic in the address bar and you'll get a list of all the related question on your topic. Go through these questions and their answers. Compile the data you have gathered and write something that provides an answer.
Start following related topics on Quora so that you get notified whenever the community asks a question related to your topic.
Follow the same process for Reddit, you'll be surprised the number of ideas you get from these communities.
For more ideas, see our giant list of blog post ideas you can steal, and our guide to types of blog posts that work for any niche.
Now that you know how to get content ideas, it is time to get to work. Add them to your content calendar and set a deadline for each topic.
Step 9: Grow Your Blog Traffic
When you're first starting your blog, it can be tough to build your audience. How do you let the world know about your new blog and start growing your traffic?
My favorite method is using search engine optimization (SEO).
SEO is the strategy of increasing your visibility on search engines like Google. This way, when people search for topics you write about on your blog, your blog posts will rank on the first page and you can attract lots of readers.
Next I'll share some basic SEO tips to help you get started.
There are two aspects of SEO:
On-Page Optimization
Off-Page Optimization
Let's take a look at how you can use these tactics to grow your blog traffic.
On-Page Optimization
On-Page optimization means the optimization and the tweaks you do on your website. On-page optimization includes the following:
I know that this sounds like a lot of work, but it's not hard to get started with the basics! You can read our beginner's guide to SEO for bloggers to learn more.
To get you started, I'll only focus on keyword research in this guide and teach you how to use the keywords you found in the right places.
You can use Google Keyword Planner to do your keyword research for free. You can either insert the URL of your competitor's blog post or you can enter your topic idea to get a list of keywords. Pick the ones that have high volume, this will increase your chances of getting more traffic.
You can also try searching for your blog post topic in Google and look at the suggested searches at the bottom of the page for keyword ideas.
Once you have your list of keywords, use the keywords in the following places:
Blog post title
URL of the page (called the permalink)
H1 (The main heading)
H2, H3 (The sub-headings)
Image alt text
Meta description
In the blog post itself
If you have All in One SEO installed on your site, it will make your life a lot easier. All in One SEO (AIOSEO) will keep on reminding you about the placement of your keywords and even recommend areas of improvement. The plugin grades your content on the basis of Basic SEO and Readability. Follow the suggestions to get a good SEO score like in the screenshot below.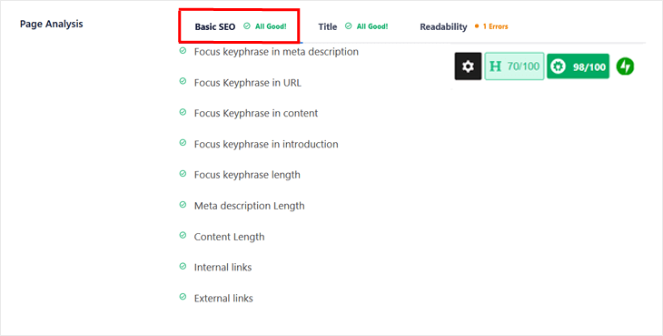 Find out more about this plugin by reading our All in One SEO review.
Off-Page Optimization
Off-Page optimization is when you build links or reach out to influencers to promote your blog.
Link building can be tricky, especially if you are doing it for the first time. To get you started, I'll share some basic tips here.
First, it's best if you join communities where your audience is located. Start participating on threads and add value to them. It is highly advisable that you shouldn't put your links in as soon as you join the community. Instead you should get to know the users and find ways to sympathize with them and only link to your website where it's relevant.
Another easy method is to find fellow bloggers or influencers on Twitter. Start interacting with your influencers and share their tweets and content. The goal here is to get on their radar. Once you have their attention you should introduce yourself and your blog and see if they would be open to sharing your content with their audience.
Ahrefs Content Explorer and BuzzSumo are our favorite tools for finding influencers online.
SEO is an in-depth topic and to say that we have covered everything in this small section would be a lie. Read our in depth SEO guide for more information.
Step 10: How to Make Money From Your Blog
Congrats, you're blogging now!
The next question that pops up in every blogger's mind right after they launch their blog is, "how do I make money by blogging?".
There are many ways through which you can monetize your blog. We have even compiled a guide on various ways through which you can make money online.
For now we'll be talking about some of our favorite methods we use to monetize our blogs.
1. Google Adsense
Google Adsense has been around for a long time and bloggers have been leveraging their service to earn a lot of money. Google Adsense is an advertising platform for bloggers and publishers. Once you have Adsense enabled on your blog, your readers will start seeing ads on your blog. You get paid to show these ads and you get paid more when a visitor clicks on them.
Learn more about how to add Google Adsense to your blog.
2. Affiliate Marketing
Affiliate marketing is promoting other people's products on your blog and getting paid whenever your referral buys their product or service.
Affiliate marketing is easy to get started with all you have to do is sign up for the affiliate programs of the product that you are using or would generally use.
The will give you your affiliate link which you can place on your blog. Every time a visitor clicks on that link, they will be taken to the product's website that you are promoting. You'll get a commission if your referral makes a purchase.
There are many products and platforms that offer affiliate partnerships. You can start with Amazon or Aliexpress' affiliate program and start promoting the products they have listed on their site.
We recommend getting started with the ThirstyAffiliates plugin to manage all your links.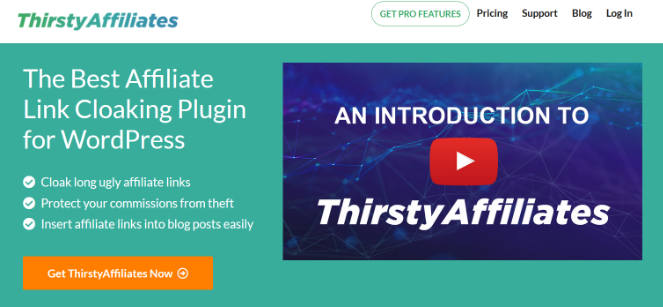 You could also check to see if the product you are using offer affiliate partnerships. For example we're huge fans of Constant Contact and we regularly promote them because they are just that good. You can do the same.
See our beginner's guide to affiliate marketing to get started.
3. Create an Online Store
Bloggers make a lot of money by selling things from their blog. All you need is an ecommerce plugin and when it comes WordPress ecommerce plugin, there is none better than WooCommerce.
To get started, follow our guide on how to create an online store.
If you find maintaining inventories and managing shipments a hassle then we'd suggest that you look up drop shipping. It's an awesome, hassle free way to start selling online.
Launching your blog is just the tip of the iceberg. You still need to practice and keep learning in order to become a great blogger.
Make sure you check back regularly for more blogging guides and tips. You can sign up for our email newsletter to stay informed.
Before we wrap up, I'd like to share a cheatsheet of my favorite blogging tools to help you get to the next level.